Chiropractic Care
What would you do if you were pain-free? Or if you had greater flexibility? How about if you didn't feel stiff or could improve your overall function? With chiropractic care, you can find a solution for many common complaints:
Auto accident injuries
Herniated disc
Joint pain
Low back pain
Migraine headaches
Neck pain
Nerve-related pain
Numbness and tingling in the arms and legs
Plantar fasciitis
Sciatica
Sprain/strains
Tension headaches
Work-related injuries
A Custom Treatment Plan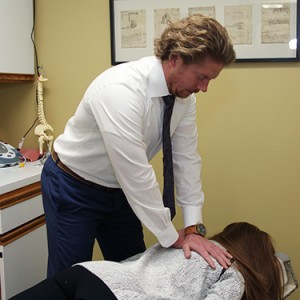 We'll look at your individual needs to determine whether chiropractic or any of our other services are most appropriate for you. It will depend on your condition, needs and goals.
If chiropractic care is suitable for you, you'll only receive an adjustment when you are ready. With many services available, we'll work together to find what is best for you.
Our Chiropractic Techniques
Dr. Bradford is skilled in several different adjusting methods. Diversified is the primary technique used. It takes a hands-on approach to restore motion and alignment to your joints. Flexion-Distraction mobilizes herniated discs. Instruments including the Activator® and ArthroStim® allow a gentle touch. A Thompson Drop table can also assist in making the adjustment comfortable for you.
How Can We Help You?
Do you have a health challenge you'd like to resolve? Or are you wondering what the benefits of chiropractic are? Contact us today! Same-day appointments are available.
CONTACT US »

Chiropractic Care | (513) 772-9065