Auto Accident Chiropractic Cincinnati OH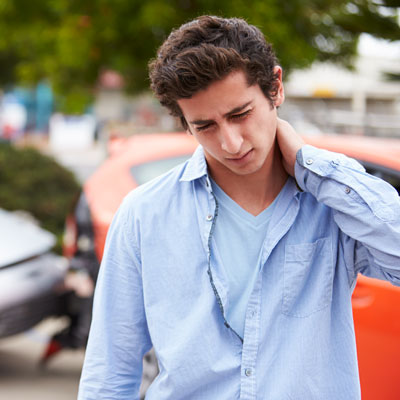 Whether you find yourself involved in a low-speed fender bender or high-speed collision it's vital that you get checked by a chiropractor as soon as possible. That's because even if your vehicle didn't sustain damage, you likely did.
A Comprehensive Evaluation
At Cincinnati Rehabilitation Center, Dr. Bradford can provide a full, comprehensive evaluation that will analyze you for any significant injuries. He also will look for the minor injuries that would likely go unnoticed if you were to go to a hospital where they're looking for emergency situations only.
If you just get care at a hospital, they may overlook soft tissue injuries that are prevalent and may cause some issues in the moment, but more issues and faster degeneration down the road.
As part of our complete evaluation, we will do some orthopedic testing and take X-rays on-site for a deeper analysis. If we feel that you can benefit from an MRI, we will refer you out for one.
Injuries We See
After an auto accident, the most common injuries that we see are
Sprains and strains to muscles and ligaments
Disc injuries
Whiplash
Ligament instability
Headaches
Neck and back pain
FAQ
My accident was minor and I feel fine. Why do I need to get checked?
Many people don't experience any symptoms until days or weeks after an accident. For example, you may have ligament instability that you may not have noticed, although you may experience minor pain.
The bottom line is even if you feel okay, you still could have sustained damage. So getting checked is important.
Will my insurance cover all of my care?
They typically will cover you for the full length of your recovery time.
Is there a specific window of time that I need to seek care?
There's not a specific time frame but we always say the sooner the better. Ideally, you should come in within the first two weeks after the accident.
Will you recommend other therapies for me other than chiropractic?
Yes, we also offer massage therapy and physical therapy on-site. Because we have multiple services under roof you will save time.
Will you work with other doctors to co-manage my case?
Yes, we have other physicians that can evaluate you to see if you can benefit from pain medication or anti-inflammatory medication. If you have PTSD after your accident, Dr. Bradford can refer you to another provider he works with.
Book an Appointment
If you've been involved in an auto accident, it's important to seek chiropractic care as soon as possible. We can help you recover from your injuries and help you get your life back. Contact our Cincinnati practice today!

Auto Accident Chiropractic Cincinnati, , Cincinnati OH | (513) 772-9065